Events
Each week Glimpses will focus on a cool thing happening in or around Charleston. Check it out!
There was no one really cool event we wanted to highlight for this coming weekend, so here's the link to the Post & Courier's full calendar of events.
The good news is that there is never a lack of fun things to do in Charleston!
Magnolia Plantation & Gardens

, where they will help keep the incredible flora there free of aphids and other plant munching pests.

Kids of all ages are asked to come and help set these winged beauties free. Prizes will be given for the best ladybug costumes in three categories in different age groups (for actual kids), there will be face painting, live animals and nature displays.

The event runs from 10:00 AM until 1:00 PM, and admission to the gardens is $15 for adults, $10 for children ages 6-13 and  kids 5 and under are free. (If you check the newspaper, there is a $5.00 off general admission coupon.) You can find all the details here.

Even without releasing ladybugs, Magnolia Plantation is well worth the visit. What a beautiful place.

You will find Magnolia Plantation at 3550 Ashley River Road in Charleston.

This Saturday, July 25, 2015, over 150,000 cute little ladybugs will be moving to their new home…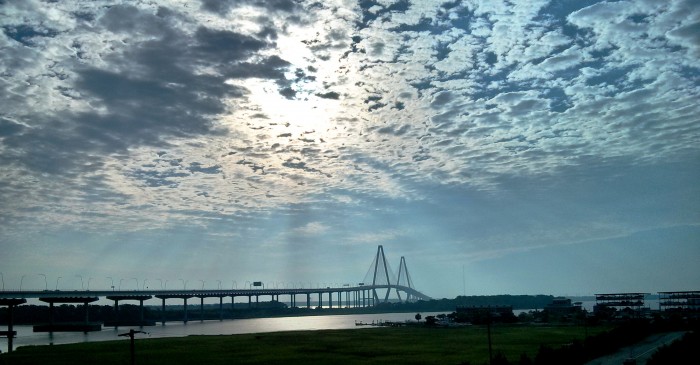 This weekend the Ravenel Bridge celebrates its 10th anniversary. This beautiful structure has become an iconic  symbol of Charleston and the Lowcountry — and the home daily to drivers, bikers, runners and walkers. The view is spectacular — the harbor, barrier islands, rivers, the Atlantic Ocean and, of course, downtown Charleston.
To help celebrate, courtesy of the Post & Courier (the local newspaper), a 25 foot model of the bridge will be created with Lego bricks at Patriots Point on the lawn in front of the aircraft carrier Yorktown. Not only can you watch the bridge take shape, there will be music, food, kids activities and more. To make it easy to go, there will be a free parking pass printed in the newspaper every day this week (parking is $5.00 without the coupon). The pass also reduces the price of admission to the Patriots Point Naval and Maritime Museum by $10.00.
The event will take place from 2:00 to 7:00 on Saturday, July 18th and 12:00 to 5:00 on Sunday, July 19th.
Patriots Point is located at 40 Patriots Point Road in Mt. Pleasant.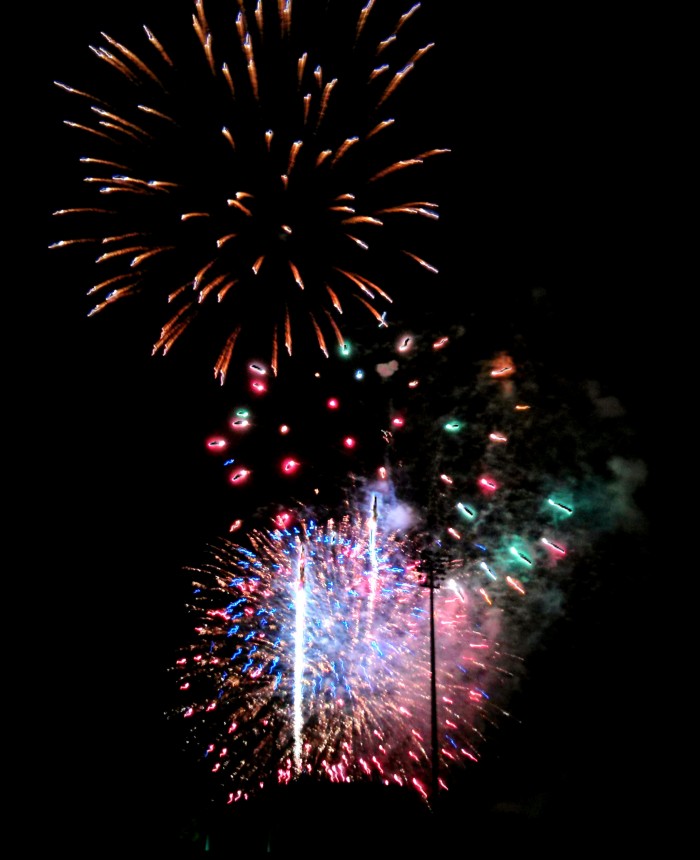 While there are many Independence Day celebrations in the Charleston area (check out the Post & Courier's website for the details), Glimpses love to go to the Charleston RiverDogs. What could be more American than baseball, hot dogs (and all the other wonderful food you can get at the Joe) and fireworks?
The game, featuring the NY Yankee's Class A hometown RiverDogs against the Rome Braves, starts at 6:35, with the gates opening at 5:00.  Arguably the best fireworks display in the Lowcountry begins immediately after the game. Win or lose, it's always a fun time at Joseph P. Riley, Jr. Park ("the Joe").
Tickets range from $9.oo to $19.00. The Joe is located at 360 Fishburne Street.
Charleston's history and development — from architecture to music to food — is peppered with influences from the Caribbean. This weekend that connection is celebrated with the Charleston Carifest, as part of Caribbean American Heritage Month.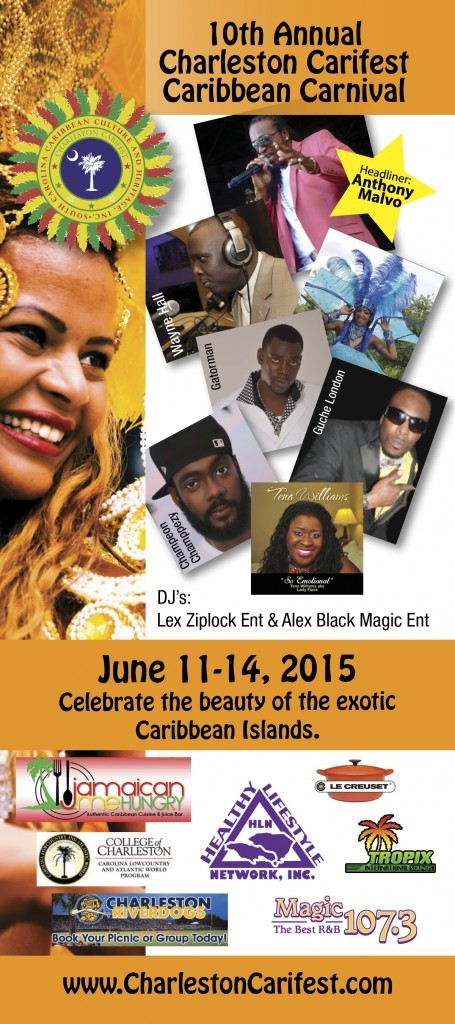 Over the span of four days (June 11-14), the festivities include a street parade, Mardi Gras party ("Halloween in June"),  riverside festival and a rockin' Wear White Party…  plus a lot more.
Costs range from free to $10.00. All the locations, tickets and more information can be found here.
The Spoleto Festival USA and Piccolo Spoleto festivals wrap up this weekend. There are loads of performances and then each has its own celebratory finale.
Piccolo's comes first.
Hampton Park is, once again, the site of the Piccolo Spoleto Finale. Musical guests will be the Funk Factory band and Brave Baby.  There will be plenty of family fun, food vendors and music all amid the beautiful Hampton Park.
Check it out on Saturday from 5:00 to 10:00 PM at 30 Mary Murray Blvd., and the price is the wonderful $free. Check here for more information.
On Sunday comes the big festival's finale.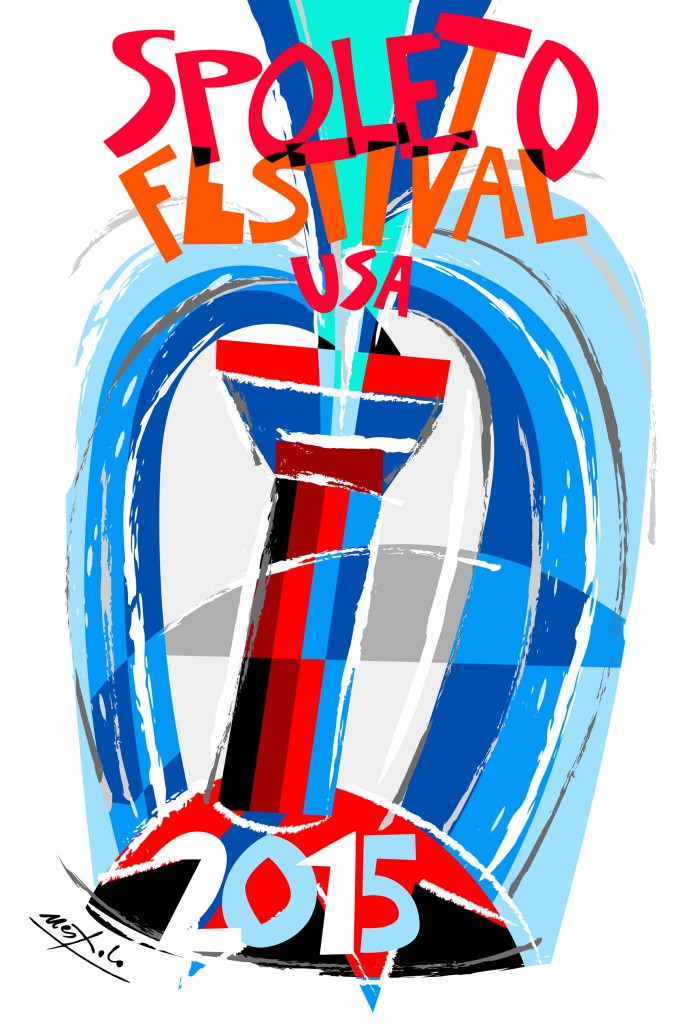 Held again on the magnificent and memorable grounds of Middleton Place, the Spoleto finale includes live music, gourmet picnic fare, and local craft beers. Featuring the Alabama-based St. Paul & The Broken Bones, the music will be great and the beer will be tasty.
It all wraps up with the traditional post-concert fireworks.
The gates and Beer Garden open at 3:30pm, with the live music starting at 4:00pm… and St. Paul & The Broken Bones performing at 8:30pm.
Tickets are $35, and that includes admission to Middleton Place. You can bring your own chairs or blankets to sit on, and a picnic basket as well. Food and drinks can be purchased until 7:30 PM. Check here for more information.
Enjoy the fireworks!
Heading into their second week, Spoleto Festival USA and the Piccolo Spoleto Festival continue to infuse art, singing, dancing, acting and music into every nook and cranny of Charleston. It's an  amazing time of year!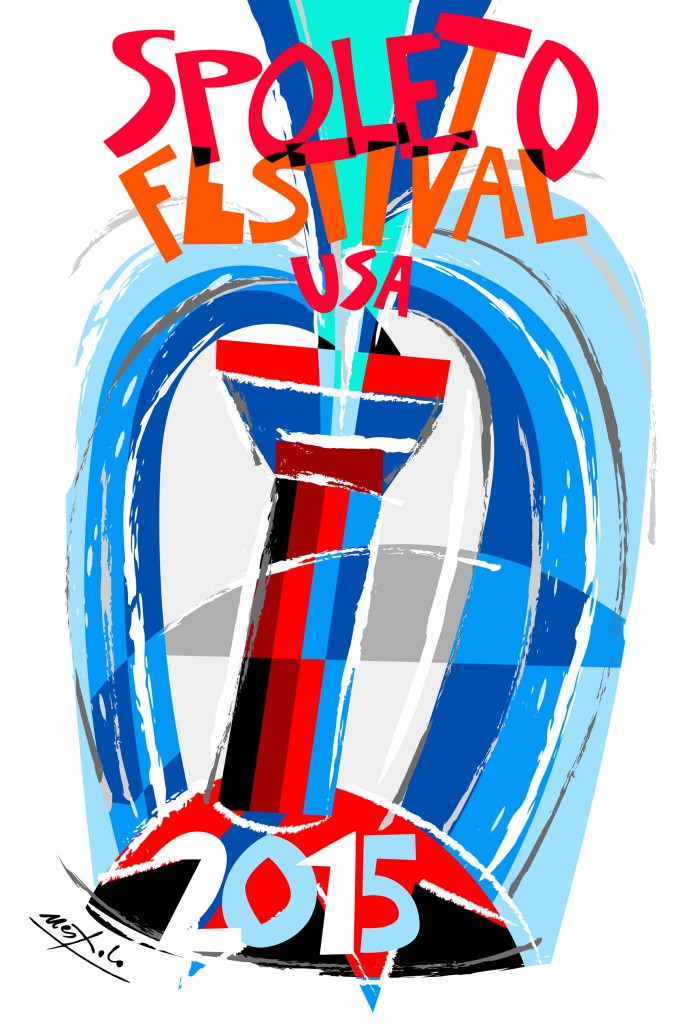 For information and tickets for Spoleto, check it out here
For Piccolo Spoleto information, you can find it all here.
From free to pricey, there is something for everyone to enjoy.
With the Spoleto and Piccolo Spoleto Festivals kicking off, there is already so much to do in Charleston for the next 17 days. But, there are always other worthy events you might not want to miss. One is the First Flush Festival.
What started as a innocent and simple way to celebrate the first tea harvest of the season (it's located on the only tea plantation in America), now in its 9th year has turned into a full blown day of tea-growing hoopla with lots of food (almost 20 food trucks), fun, crafts and music (we're talking 16 bands on two stages) — this year headlined by Sheryl Crow.
Located on Wadmalaw Island (6617 Maybank Highway), the Charleston Tea Plantation itself is worth the trip. Add in all the music and festivities and it's a truly great day.
The Festival takes place on Sunday May 24th and runs from noon until 11:00 PM. Tickets are $40 in advance, $45 at the gate and, there is a $125 VIP option as well. All information and details can be found here.
Bring your sunscreen, a thirst for tea (the American Classic iced tea is free!) and music and have a great time.
If you're looking for a fun way to spend some time in a beautiful setting with spectacular views of the Ravenel (Cooper River) Bridge and downtown Charleston, here's an event for you.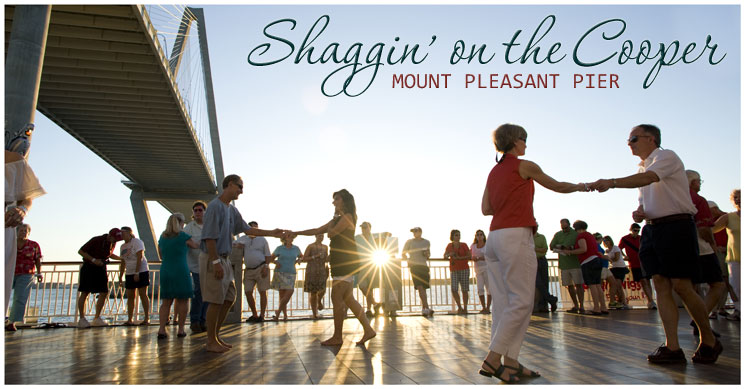 While Austin Powers might have a different idea in mind about shagging, with music by the Sugarbees, you can spend this Saturday evening (starting at 8:00 PM) dancing the night away on the Mount Pleasant Pier. Tickets are $10.00 ($8.00 if you are a Charleston County Park pass holder) and you can by them online or at the gate.
Check out all the details here.
Celebrating its 45th year, the Charleston Greek Festival  brings a bit of the Mediterranean to town this weekend.

With live music, folk dancing in full costumes,  tons of Greek food (think gyros, dolmades, roasted lamb, baklava), wine, Greek beer and more, it's rockin' good time.

Located at the Greek Orthodox Church of the Holy Trinity at 30 Race Street, the hours are Friday and Saturday from 11:00 AM to 10:00 PM, and Sunday noon to 6:00.
There's lots of free parking at 150 Lockwood Boulevard, with a free shuttle to the Festival.
Admission is $5.00, $3.00 for student and free if you're 13 or younger.
You can find out anything else you need to know at their website.
As they say in Charleston, Ylassou y'all.