Events
Each week Glimpses will focus on a cool thing happening in or around Charleston. Check it out!
The featured Glimpses event this weekend is a combination of competition, celebration and, of course, a huge party… the 8th annual Charleston Dragon Boat Festival.
If you have never seen a dragon boat race, they are very cool. Two 20 member teams paddle their nifty dragon boats as fast as possible down a 250 meter course. The trick is to have the right combination of cadence and power. One year the stroke rate chant of the winning team was ,"Ice cold beer, ice cold beer." They were a team of huge, fit and powerful guys wearing viking helmets. So you get the idea.
There is a strong connection of dragon boat racing in Charleston to cancer survivors, and is a wonderful theme for the event. There will be dozens of boats competing.
So head over to Brittlebank Park along the Ashley River on Saturday from 8:00AM until 4:00PM, and take part in the wonderful craziness of the races, the food, live music and fantastic spirit. And the cost is free.
Combining shrimp,  shagging and boats, this Sunday check out this quintessential Lowcountry event … the Blessing of the Fleet and Seafood Festival.
Being held just over the bridge from Charleston at the
Memorial Waterfront Park
in Mt. Pleasant, what started as a religious send-off for the shrimping fleet has evolved into a big party — as so many things in Charleston do. Now there is a boat parade, live music, dancing, craft show and lots more, especially shrimp eating — all in a setting with spectacular views of the
Ravenel (Cooper River) Bridge
, Charleston and the Harbor.
The Festival takes place on Sunday from 11:30 AM until 6:00 PM. And you can't beat the price…. free!
For more info, check it all out here.
This weekend one of the largest paddlesports events (and more) on the East Coast takes place at James Island County Park in Charleston… and it's a really great time.

Whether you're a devoted outdoor sporting enthusiast or just beginner, there's something for you at this really fun and helpful three-day festival. Explore canoeing, kayaking, paddleboarding, rock climbing, slacklining, mountain biking, archery and even disc golf at the 25th Annual East Coast Paddleports & Outdoor Festival.
There will be all sorts of hand-on workshops and, best of all, the chance to get out on the water on just about any piece of floating equipment being displayed. While packages range up to $155 for the full weekend, for just $10 you can get a "Try It" pass that lets you paddle all day on all the different manufacturers' kayaks, canoes and paddleboards. It's a wonderful way to discover a new passion and really try out the equipment before investing the money.
And don't forget your sunscreen!
For more information, times and prices, please check out their website.
Looking for a great time that combines the beach, music, art, food and lots of fun in some pretty great weather, well you're in luck. It's time for the 25th Annual Folly Beach Sea & Sand Festival!
The festival is a very family friendly time with live music on two stages (featuring the not so scary-sounding Dangermuffin), a kids activity zone (including jump castles), games, face-painting, lots of food and art (over 80 vendors), a pageant and a 5K run/walk/skate — and in the best Folly tradition, it's a big party.
The festivities start at 7:30 PM on Friday with the Miss Sea and Sand Pageant (and who wouldn't want to be Miss Sea and Sand?) and then runs all day Saturday.
Folly (the Edge of America) is never your typical beach town, and here's just one more reason why.
For more information, check out their website. Have a great time!
The opening day for the Charleston RiverDogs is this Thursday, April 9th!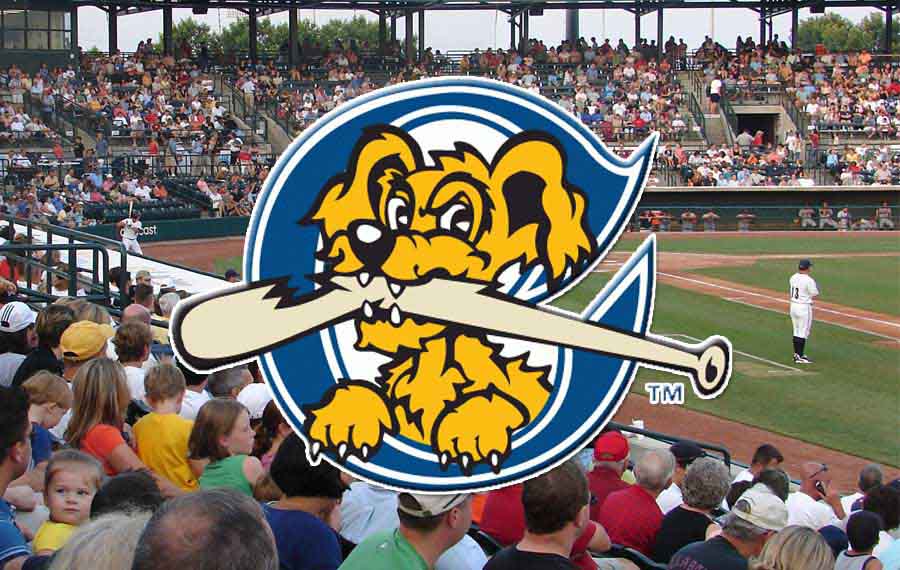 While an enormous portion of the attention this weekend is focused, justifiably, on the Cooper River Bridge Run, don't forget you have to have fun after the run is over. The Lowcountry Cajun Festival fits that bill.
Now in its 24th year, the Cajun Festival is one of the most popular events in the Lowcountry. It's a day full of Zydeco music, Cajun and Creole foods, kids activities, and more.While not native to the area, there is authentic Cajun and Creole fare – jambalaya, alligator, etouffe, andouille sausage and, the most popular of all…. crawfish!

For those who are sticklers about eating regional cuisine, there will also be Lowcountry favorites like seafood and Southern barbecue.
The Festival runs from noon to 6:00 PM on Sunday, March 29th and the James Island County Park.
Ticket are $15 per person, and food and drink is sold separately.
You can find out anything else you like to know on the Festival's website.
One of the great things about Charleston is the diversity of activities for a city its size. Sure you can go to the beach or hang at one of the top new restaurants in the country or go to the fort where the Civil War started, but you can also do cool and unusual things like go to a bed race.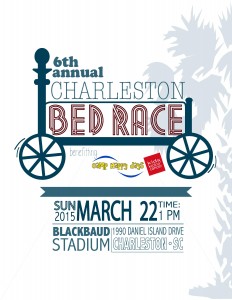 The Charleston Bed Race gives you a chance to push a bed in a competitive atmosphere for a good cause… or to get a kick out of watching others do it. Beds race two at a time over a distance of approximately two city blocks, until a champion is crowned. Awards will be given in the following categories: Fastest Bed, Slowest Bed, Best Decorated Bed, Most Outrageously Decorated Bed, the "What Were You Thinking?" Bed, and the People's Choice Award.
The event is a fundraiser for a wonderful local cause, Camp Happy Days (which helps kids with cancer) and takes place on Sunday, March 22nd, at Blackbaud Stadium on Daniel Island. The festivities start at 1:00 PM with the Grand Parade of Beds (c'mon, how often do you get to be in a Grand Parade of Beds?).
To either register to race your own bed or to buy tickets, and for any other information, check out the official race website.
One of the more unusual events in Charleston is taking place this coming Friday and Saturday, March 13th and 14th — the  third annual Charleston Tells Storytelling Festival.

Set under the moss-draped oaks in Wragg Square, the Storytelling Festival brings together some of the best national and local storytellers,  showcasing humorous slice of life moments and helping celebrate the art and importance of storytelling, the human experience and the Lowcountry's rich heritage.
Tales will be told on both Friday and Saturday nights, including outdoor ghost stories Saturday night. Saturday will be a busy day, with multiple concurrent performances going on — as well as more family fun.
You can buy tickets here (and there is an Early Bird discount if you buy ahead of time). Check out their website for more complete information.
From folk tales to ghost tales, it's a pretty cool way to spend some time out in the beautiful Charleston weather.
Food and Charleston have become synonymous over recent years, as the number of spectacular restaurants in the city has grown and grown (there really is no reason to have a bad meal in Charleston). The BBT Charleston Wine + Food Festival reflects the fantastic nature of the culinary scene in Charleston.

Now entering its 10th year, the Festival offers over 100 events in a five day period, starting this Wednesday, March 4th.  Events range from cooking classes, bourbon workshops, food and wine tastings, and lunches and dinners to the Waffle House Smackdown. There will be James Beard Award-winning chefs, winemakers, storytellers and all sorts of other foodies. These are not just local folks either, as the Festival now has a national draw.
With locations all over Charleston (at various restaurants and other venues), the hub of the Festival is the Culinary Village on Marion Square. Some events are more intimate, others are huge. Tickets go quickly for many events, and you can check out their availability here. Prices range from $40 to $750.
The Festival runs from March 4 thought the 8th. All the information can be found on the BBT Wine + Food Festival website.
Good appetite!
One of the great culinary developments in recent years in Charleston is the proliferation of high quality food trucks (they are even organized within the Charleston Food Truck Federation).  The range of what they produce is fantastic.
This Saturday there is a great chance to experience a variety of the truck offerings, along with an oyster roast, at the (lengthy-named but full of accurate information) 2nd annual Shuck'n and Truck'n Oyster Roast and Food Truck Festival. You'll be able to get $15 buckets of oysters, along with food from Dulce Truck, Platia Food Truck, Cast Iron Food Truck, and Kay's Southern Gourmet – Food Truck.
And just as important, the kids will be able to experience the "Mountain of Dirt" — a excellent opportunity for some slipping and sliding. Oh yeah, there will be beer, wine, live music and other stuff (mule rides!) too.
This very Charleston event is being held from 12:00 to 5:00 PM at 1820 River Road on Johns Island. Admission is free. For more information, check out here.