One of the great things about Charleston is the diversity of activities for a city its size. Sure you can go to the beach or hang at one of the top new restaurants in the country or go to the fort where the Civil War started, but you can also do cool and unusual things like go to a bed race.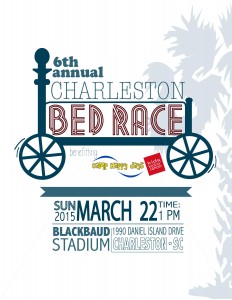 The Charleston Bed Race gives you a chance to push a bed in a competitive atmosphere for a good cause… or to get a kick out of watching others do it. Beds race two at a time over a distance of approximately two city blocks, until a champion is crowned. Awards will be given in the following categories: Fastest Bed, Slowest Bed, Best Decorated Bed, Most Outrageously Decorated Bed, the "What Were You Thinking?" Bed, and the People's Choice Award.
The event is a fundraiser for a wonderful local cause, Camp Happy Days (which helps kids with cancer) and takes place on Sunday, March 22nd, at Blackbaud Stadium on Daniel Island. The festivities start at 1:00 PM with the Grand Parade of Beds (c'mon, how often do you get to be in a Grand Parade of Beds?).
To either register to race your own bed or to buy tickets, and for any other information, check out the official race website.