In 1984 Mrs. Theresa Pregnall  started a cake-baking business, becoming known as "The Charleston Cake Lady."  From her modest intention of selling some cakes to her friends and a few others in Charleston, the Charleston Cake Lady cakes became so popular that they were shipped all over the United States and have been featured in The New York Times, The Washington Post, Country Living and other publications, as well as having eponymous named cookbooks published by William Morrow and HarperCollins. Thanks to the generosity of spirit of her son and daughter-in-law, Glimpses has been given permission to share some of her recipes.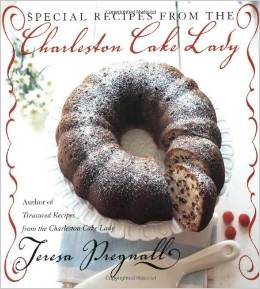 Huguenot Torte was brought to Charleston in the 1700s, with the arrival of the French Huguenots.  Mrs. Pregnall's version became a favorite in Charleston…. and in our house as well.
Ingredients
1/4 cup all purpose flour                                            2 1/4 teaspoons baking powder
1/4 teaspoon salt                                                         2 large eggs
1 1/2 cups granulated sugar                                      1 teaspoon pure vanilla extract
1 cup chopped pecans or walnuts                            1 cup chopped tart cooking apples
Instructions
Preheat the oven to 325. Grease a 12 x 8-inch pan.
Sift together the flour, baking powder, and salt. Set aside.
In a large mixing bowl, beat the eggs on low speed until thick and lemon-colored, about 4 minutes. Gradually add the sugar. Add the dry ingredients and beat until well mixed. Add the vanilla extract. Gently but thoroughly fold in the nuts an apples.
Pour the batter into the prepared pan. Bake for 45, or until the tore is crusty and the top is firm and golden brown. (The crust will fall as the tore cooks.) Allow the torte to cool in the pan. Cut into square.
And enjoy!